Festivals are fun but their ecological footprint is often dismal. While lifting the minds of party people, these events result in sad mountains of plastic waste. The Glastonbury Music Festival in the UK decided to reduce the footprint of fun by offering a stainless pint mug as an option to plastic.
Plastic is a convenient beverage container because it doesn't degrade in our hands, but sadly it's this same property that makes the material so toxic and dangerous for nature. No matter how small the particles, plastic can never be fully digested by our earth. Plastic is unfortunately forever. It has already invaded the food chain and plastic can now be found inside almost every one of us.
Michael Eavis, the founder and organizer of the famed Glastonbury Music Festival held each year in Somerset, has no trouble booking world-famous acts like Adele and Muse. Still, it took him three years of bureaucratic wrangling to bring in new stainless steel mugs to replace plastic. Eavis persisted because he saw going stainless as the only solution to stemming the tide of plastic trash that plagues each festival aftermath.
Last year at the Glastonbury Festival it took 800 trash collectors six weeks to clear up an estimated 1,650 tons of waste, mostly plastic, and restore the land for farm use. This year, Eavis and his team are expecting to see a change in the post clean-up and, more importantly, in the overall ecological footprint of the event.
Changing the footprint of fun
For the first time, revelers at Glastonbury will have the chance to choose reusable stainless steel pint mugs instead of single-use plastic. A part of the volume of the 250,000 stainless mugs on offer are being produced nearby in Sheffield, using Outokumpu steel. Sheffield is where stainless steel was invented.
To use the mugs festival goers pay a 6.5 euro (£5) deposit upon purchase of their first drink. The mug is then taken for washing and a clean one given with every refill. At the end of the three-day festival, patrons can either return the mug and collect the deposit, give the deposit to charity or keep the mug for reuse at future festivals. Early indications show that people find the iconic shine of the mugs so compelling that most want to keep them as collectibles.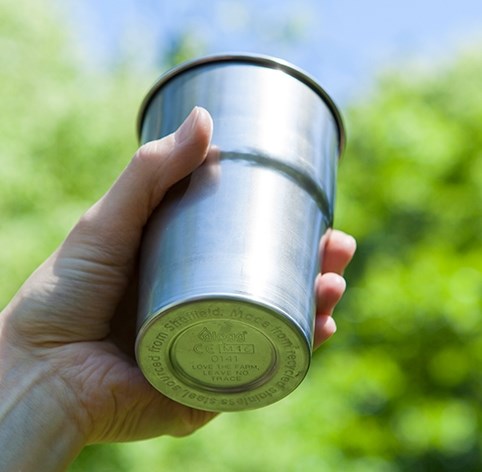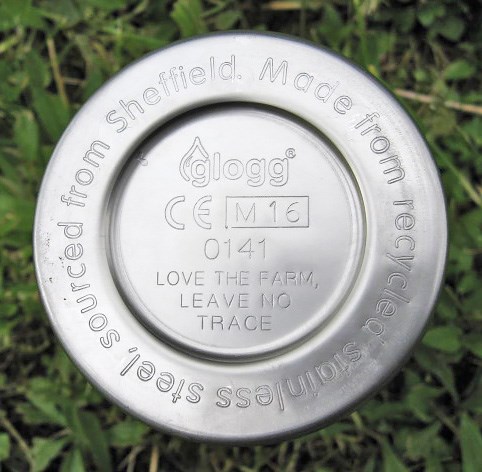 Fully recyclable with no loss of quality
Stainless steel drinking cups are clean, safe and durable and 100% recyclable with no loss of quality. The same cannot be said of disposable plastic. Yes, plastic cups are cheap to produce and yes, they are cheap to procure, but it's easy to forget that the true cost to our natural ecosystems has never been factored into the price.
Reclaiming and recycling used plastic is energy intensive and costly, which is why only an estimated 2% is ever recycled back to its original form. It is simply cheaper to buy new and toss the used waste into landfill. But plastic loaded into landfill becomes what is known as leakage, making its way into underground water systems and ultimately to the sea.
A new report released at the World Economic Forum this year predicts that by 2050, the world's oceans will contain a greater amount of plastic trash (by weight) than fish. Plastic is changing our environment in ways that threaten our wellbeing and the long-term health of our planet – and 2050 is closer than we think.
If Glastonbury can do it…
The Glastonbury initiative is one small, but inspiring step towards closing the loop on trash. Other festivals in the UK and around the world are expected to join forces with similar initiatives.
If the Glastonbury initiative can be called a reusable revolution, then stainless steel is definitely leading the charge. Certainly it's a good fit with Outokumpu's vision of: 'the world that lasts forever' and the company is proud to be part of such a high profile call for change in consumer behavior. Festival goers themselves should also feel good about being part of the solution, because in refusing disposable plastic and choosing reusable stainless, they become users rather than consumers – although not when it comes to the festival beverages!