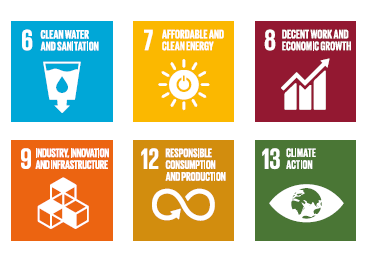 Sustainability strategy
Our sustainability approach rests on three pillars: climate, environment and society. Our product, stainless steel, is a sustainable material as it is 100% recyclable, efficient and long-lasting. We are continuously looking for ways to further improve our operations and we have set ambitious targets. We are developing a carbon neutral road map in all our operations to achieve carbon neutrality by 2050.
Commitment leads to contribution
At Outokumpu, we are committed to the United Nation's Sustainable Development Goals (SDGs). We have chosen six SDGs as the most relevant for our contribution. In 2019, we joined the Responsible Steel initiative to assert clients globally that all steel has been sourced and produced responsibly.
Outokumpu maintains a continuous dialogue with key stakeholder groups – customers, employees, suppliers, and investors – about emerging sustainability trends and topics within the stainless steel industry. Key topics discussed include climate change mitigation through a lower carbon footprint; improving energy efficiency; ensuring the safety, well-being, and development of our personnel; and strengthening supply chain sustainability by further assessing environmental, social and governance compliance.
Guidelines to cover all operations
Our Code of Conduct sets the framework for all our operations, and it provides the guidelines to conduct our business with the highest ethical standards beyond legal requirements. The Code of Conduct is Outokumpu's main policy and is supplemented by other policies, such as the EHSQ policy and the Corporate Responsibility policy.
With our compliance program, we want to ensure that our company and employees comply with laws and regulations as well as Outokumpu's internal policies and instructions. Anti-corruption and competition law compliance are essential parts of the program.
Management principles
At Outokumpu, sustainability issues are managed by the Corporate Sustainability and Environment team. The team advises on matters related to sustainability and coordinates them across the Group. The business areas and functions are responsible for ensuring that operations within their own organizations are conducted in a responsible manner and that monitoring, data collection and reporting are duly carried out.