The ideal feedstock for AM manufacturing
Our spherical metal powder portfolio which includes stainless steel powder and nickel alloys can be used to manufacture various parts in different PM technologies such as Additive Manufacturing (AM), Hot Isostatic Pressing (HIP), or Metal Injection Moulding (MIM). 
The demand for metal powders is on the rise with the rapid growth of AM in recent times. Our metal powders are an important feedstock for the AM industry and can be used to increase the complexity of produced parts, reduce their weight, decrease lead times, and avoid supply chain disruptions.
Outokumpu metal powders are also perfectly suited to meet the needs of high-performance applications in industries such as aerospace, oil and gas, healthcare, and automotive.

Choose from high quality, sustainable stainless steel powders
Our stainless steel powders have excellent properties including high resistance to corrosion and durability. Made from scrap from Outokumpu's established flat products business, the stainless-steel powder is a durable, sustainable choice. 
Outokumpu stainless steel powder selection
Grade
Properties 
Industries 
Typical applications
Supra 316L
(1.4404)

Low-carbon alternative that minimizes carbide precipitation for improved resistance against intergranular corrosion. Suitable for applications that require good formability and weldability. 

Automotive
Chemical
Petrochemical
Healthcare

Flanges and valves
Medical devices

Exhausters

Dura 17-4PH
(1.4548)

A martensitic precipitation hardening (PH) steel with alloying elements such as chromium or nickel. Offers good corrosion properties and excellent mechanical properties up to 300°C.

Aerospace
Pulp and paper
Nuclear

Mechanical seals
Pumps

Turbine blades

Ultra 904L
(1.4539)

Special grade for high corrosion environments.

Ultra 904L is a high-nickel and molybdenum austenitic stainless steel with high corrosion resistance. 

Oil and gas

Chemical industry

Therma 253MA (1.4835)

Special grade for high-temperature applications. An austenitic stainless steel with excellent oxidation and creep resistance in cyclic conditions, best employed in temperatures up to 1150°C/2100°F. 

Oil and gas

Aerospace
Racing

Dura 4116 
(1.4116)

Special grade with enhanced high hardness, improved corrosion, and wear resistance compared to other martensitic stainless steels.

Healthcare

Consumer goods

Ni-free austenitic stainless steel powder

Special Ni-free stainless steel powder. Ideal substitute of 316L or CoCr alloys due to lower energy embodiments. Perfect grade to avoid Ni allergic reactions.

Healthcare

Consumer goods
Automotive 

Watches

Different body applications
Nickel-based alloys offer high corrosion and temperature resistance
Outokumpu produces nickel-based alloys that are ideal for highly demanding applications and harsh environments which require special protective properties.
Outokumpu's nickel-based alloy offerings
Grade
Properties 
Industries 
Typical
applications
Alloy 625

Ideal for corrosion and high temperature environments. Alloy 625 combines nickel, chromium, molybdenum, and niobium. Offers overall improved resistance to oxidation.

Oil and gas
Aerospace

Defense

Fittings

Rocket parts

Heat exchangers

Vessels

Alloy 718

Used for high corrosion environments and at high temperatures. Alloy 718 has additions of molybdenum, tantalum, aluminum, and titanium for higher strength and better weldability. It can withstand better stress corrosion cracking compared to alloy 625.

Oil and gas

Aerospace

Defense

Fittings

Rocket parts

Heat exchangers

Vessels
Specialized production processes for perfectly customized powders
Our powder production plant uses Vacuum Induction/Inert Gas Atomization (VIGA) technology to generate highly spherical metal powders in a range between 0-300 µm. With low levels of particulate matter and high sphericality, the powders offer good flowability, making them a quality raw material for production. The size of the grain can be customized to accurately match MIM, AM, and HIP applications.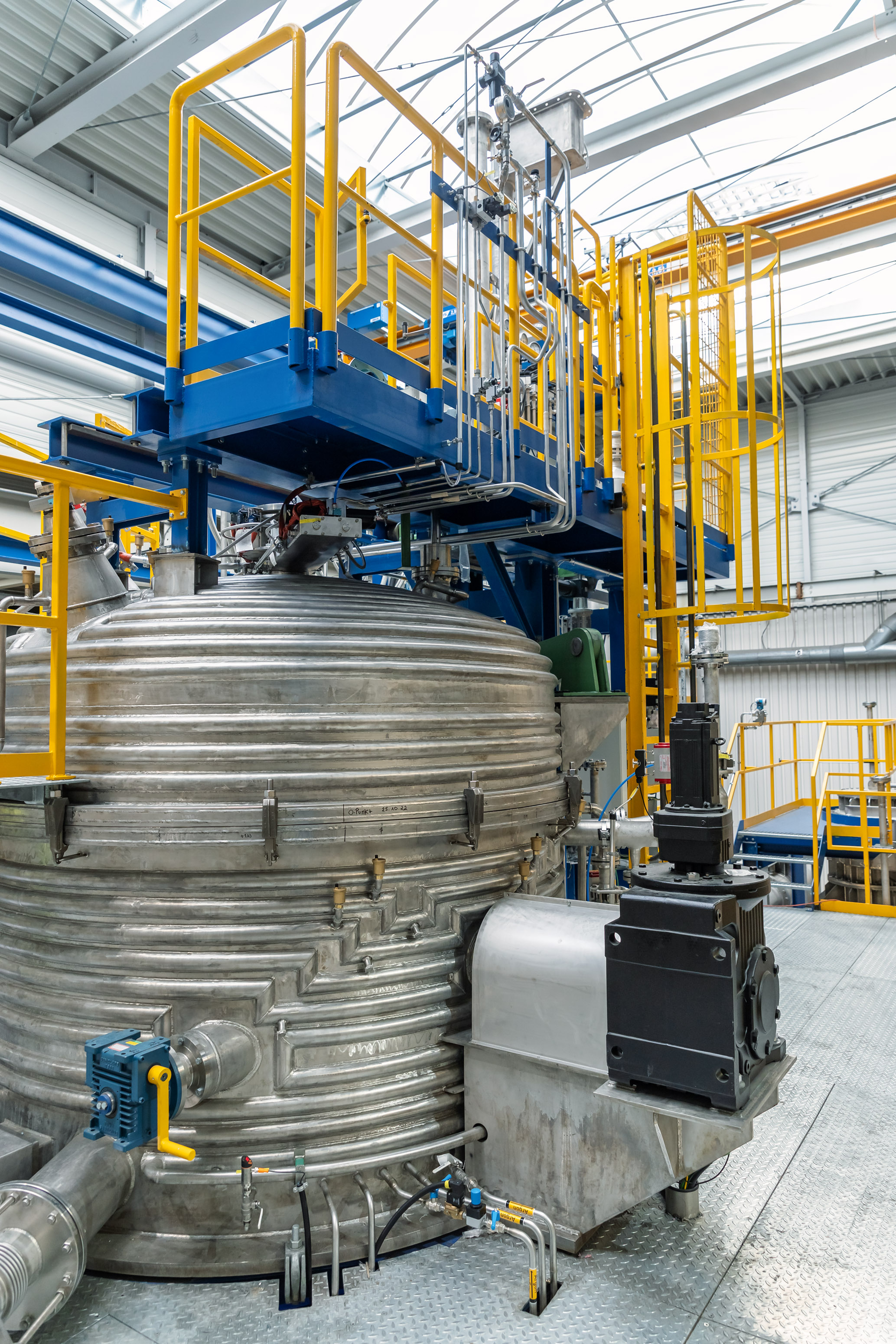 Sustainable raw materials: Our plant where we produce and pack our powders is in Krefeld, Germany, near Outokumpu's flat product finishing line from where also get our scrap raw material — making our process highly sustainable.
Efficient melting processes: The metal is melted under vacuum conditions to avoid possible oxygen contamination. Important parameters of the process including the temperature, pressure, and vacuum conditions are carefully measured and controlled to ensure the right composition.
Customized specialties: The produced powder in the collections bins is sieved into different fractions by a mechanical sieving machine and air classifier to target different powder metallurgy technologies. We offer unique specialty powders that are not available in the market that can meet the demands of high performance applications.
Crucible furnace: The ability to make smaller batches allows us to work with our customers to develop and customize new alloys.
Nitrogen & argon atomization gas: Based on the customers' needs, we have the flexibility to choose between nitrogen or argon gas to ensure the most desired output.
Anti-satellite system: Argon or nitrogen is recirculated into the atomization tower to push the small metal droplets to the bottom of the atomization tower and minimize the formation of satellites in the solidifying particles. This significantly increases the morphology and quality of the powder for AM technologies.
Fully equipped laboratory: All powder characterization techniques are included in our laboratories from density measurement and flowability to chemical analysis to provide our customers with the highest powder quality.
Outokumpu — your partner in the powder metallurgy journey
Outokumpu aims to bring new material possibilities and help customers enter additive manufacturing and powder metallurgy technologies. Our high quality, sustainable end products, our extensive expertise as global leaders in the stainless-steel industry, and our wide network of partners in the industry can help you level up your production capabilities efficiently.
Being an agile organization, we at the Outokumpu metal powder unit can react rapidly to our customer's needs. We have the flexibility and capability to develop new alloys and customize formulations to best adapt to applications and offer customers a competitive edge in the powder metallurgy industry. 
Want to know more about our metal powder portfolio or have any specific questions for us? 
Get in touch with us at: metalpowder@outokumpu.com