Until November 2022, bridge designers and engineers seeking carbon footprint information for stainless steel had to rely on average figures. Outokumpu has now raised the bar as the world's first producer to provide specific carbon footprint data for individual products.
Andy Backhouse, Lead Technical Manager at Outokumpu, explains how this major step in transparency can help reinforce the sustainability case for stainless steel bridges.
Five years ago, sustainability was something of a Cinderella subject in the bridge and general construction industry. Hardly anyone was talking about it. Then, three years ago a buzz started to develop. Now almost every industry event and conference puts a major focus on sustainability and reducing carbon footprint. That has caused designers and engineers to start re-evaluating the materials they use.
Currently, carbon steel is widely used in the construction of pedestrian, road and rail bridges. It has the virtue of being plentiful, strong, and affordable. However, carbon steel has an Achilles heel – it is susceptible to corrosion.
Dealing with corrosion means that bridges in aggressive environments containing carbon steel structural elements will need painting or coating during construction and they will also require significant maintenance during their lifetime. This will include regular repainting and the possible need to replace key elements after 40-50 years of service. Maintenance can involve significant direct costs. However, the indirect costs resulting from travel delays and disruption when the bridge is out of service might be even higher.
Stainless steel offers an interesting alternative to carbon steel for the load-bearing members in steel bridges. Its high corrosion resistance means that stainless steel does not need painting. This cuts maintenance costs and eliminates risks to the health and safety of maintenance crews, as well as the associated environmental risks from shot blasting and painting operations.
In projects where aesthetics are important, stainless steel provides a long-lasting finish that enables a bridge to keep its as-new appearance for decades.
Rather than the classic austenitic stainless steel grades such as 304L and 316L, bridge projects generally favor duplex stainless steel grades – typically LDX 2101 and DX 2205 – as they offer the benefits of higher strength, especially compared with S355 carbon steel.
Using the high strength of duplex grades enables weight savings, allowing lightweight, slender and elegant designs. However, saving weight also saves cost as it requires less material, as well as reducing expenditure on  fabrication, welding, handling and logistics. Reducing all of these also helps cut carbon dioxide emissions.
The need for product-specific information
The long life and high strength advantages of duplex stainless steel grades mean that they can be cost-competitive with carbon steel for bridges, both in terms of lifetime and initial investment costs. However, at first look, stainless steel might appear to be at a disadvantage when it comes to carbon footprint.
The reason is that it is generally easier to produce carbon steel with a low carbon footprint than it is to produce a stainless steel, due to the impact of the higher alloy content. So even though the design can use less material by switching to stainless steel, the bridge's carbon footprint when first constructed could be a concern. But this does not really tell the full story, not least because global average figures for the carbon footprint of stainless steels are much higher than produced by Outokumpu's steelmaking techniques..
Energy input and emissions in the production of stainless steel vary depending on alloying content, production route, processing steps and other variables. Therefore, to provide more detail, we have focused on production monitoring and measurement at our European mills. This has enabled us to gather the information that now enables us to provide customers with the carbon footprint for the specific grades they're buying. The data goes down to the specific alloy, production route, product form and batch and covers Scopes 1-3 under the ISO 14047 standard. Our calculation methodology is based on a rolling average and has been independently verified by engineering consultancy WSP.
The impact that this new data will have becomes clear when you consider that stainless steel produced in Europe has an estimated average carbon footprint of 2.8 kg of CO2 per kg – and until now that was the only figure available to designers. Yet, Outokumpu's average carbon footprint is 1.8 kg of CO2 per kg, well below the estimated figure.
Knowing the product-specific figure gives designers greater certainty, both in comparing individual stainless grades and alternative materials.
Scope 3 emissions that represent the embedded carbon dioxide in raw materials are often the biggest share of the carbon footprint. Therefore, by working with Outokumpu, bridge designers can use our product-specific data to calculate a more accurate carbon footprint for their construction projects.
Aiming for full transparency
From the start of November 2022, the product certificates we issue to customers with our steel deliveries have included details of the carbon footprint. This sits alongside other properties such as yield strength, tensile strength and elongation, which are universally recognized as mechanical properties.
The data presented as fact by some sources may actually be more variable than it seems. [AB2][EC3],There can be considerable variation in carbon footprint calculations. For example, suppliers might use the ISO 14040 methodology but apply the product category rules (PCR) in a different way. It is also possible that they underestimate their footprint by using "average" values under scope 3 to overlook issues in the supply chain.
There is another way to enhance the apparent carbon footprint of a material by including carbon offsets in published data. This could be seen as "greenwashing", hence we do not include any such element in the Outokumpu calculation
Stainless steel is fully recyclable at the end of life, and this can be considered as a credit towards the whole life carbon cost.  This is normally shown as Module D within Environmental Product Declaration (EPD) documents.   As this is not part of "cradle to gate" production of stainless steel this is excluded from the carbon footprint calculation shown on our delivery certificates.   Where it is considered appropriate to include this recycling credit in a Life Cycle Analysis study the value can be obtained from the applicable Outokumpu EPD document.
In the long term, we expect that the bridge building and construction industries will eventually come together to follow the same standardized process for evaluating carbon footprint, in the same way as for general material properties. In the meantime, designers and buyers need to ask hard questions about how carbon footprint figures have been calculated. It is possible that they may even need to apply the PCRs consistently in their own calculations. This will enable them to compare materials on an equal basis and provide their own end-users with accurate sustainability data.
Outokumpu is taking the approach that the most transparent and straightforward way to calculate carbon footprint with the ISO 14040 and ISO 14047 standards is to gather and measure accurate data across Scopes 1, 2 and 3 and avoid using any offsets. This open-book approach enables our stakeholders to use the carbon footprint data we provide with confidence.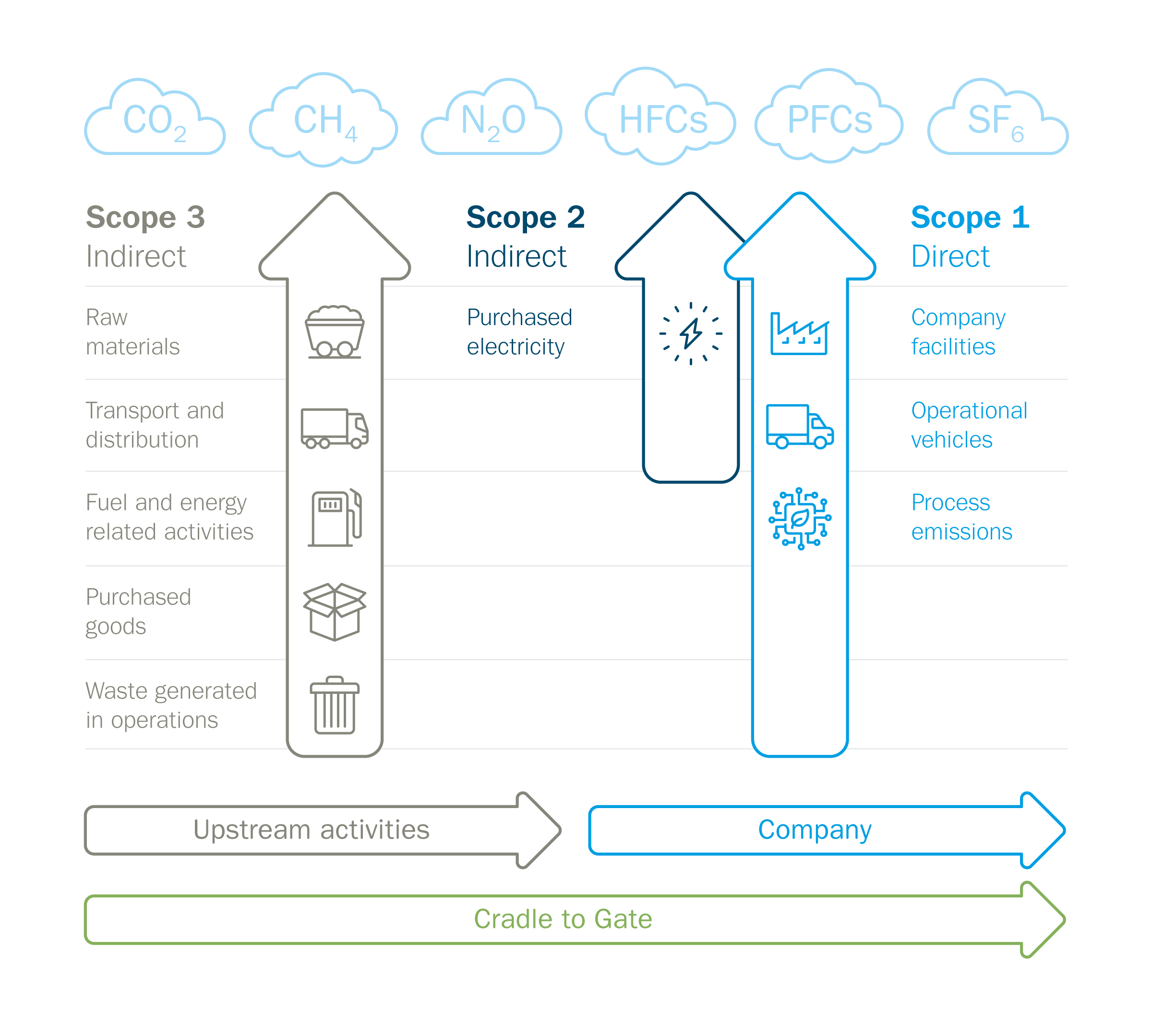 Leading the way
Our new product-specific approach to carbon footprint data is the latest step forward in Outokumpu's goal to reduce its CO2 emissions by 42% by 2030. It also highlights how we are the only stainless steel producer with a climate target approved by the Science-Based Targets Initiative under 1.5° climate target.
By working with the first stainless steel producer to provide product-specific carbon footprint data, bridge designers can use the detailed information to achieve a competitive advantage. Most importantly, they can evaluate the carbon footprint of their designs with greater confidence, reinforcing the contribution that stainless steel can make to sustainable bridge design.
Find out the ideal stainless steel for your bridge project
Which stainless steel grades would be ideal for your bridge project? Try our simple material selection tool for product recommendations and expert tips.
Material selection