Second-largest façade order
When faced with the challenge of delivering hundreds of tonnes of stainless steel façade material with a completely consistent finish, Outokumpu's technicians might prefer to do it in a single batch. However, architectural fabrication companies need to order material in multiple batches to control their cash flow, and require the same quality and appearance from production batches spread many months apart.
The prestigious The Address Sky View Towers in downtown Dubai is a case in point. The two fabricators for the project submitted seven orders for a total of 1,460 tonnes of material – Outokumpu's second largest ever order for an architectural façade. Its technicians rose to the challenge by ensuring consistent quality and color for every batch. 

When Dubai's leading property developer, Emaar Properties, earmarked a site for a new hotel and tourist destination within walking distance of its landmark building, the Burj Khalifa, it appointed architect Skidmore, Owings and Merrill (SOM). Having already delivered the Burj Khalifa itself, SOM already has a firm understanding of Emaar Properties and the city of Dubai.
It specified a high-quality stainless steel façade and turned to Outokumpu to supply 1,460 tonnes of stainless steel sheet for the cladding.
Officially opened in 2019, the prestigious twin-tower development features a skybridge, a glass-floored observation deck and a view of the Burj Khalifa – hence the name Sky View. The stainless steel-clad towers consist of 61 and 56 stories, linked at floor 51 with the skybridge. Part of a continued drive to promote Dubai as a major destination for tourism and business, the development consists of luxury apartments and a five-star hotel, as well as open spaces and an infinity pool on the skybridge. 
Outokumpu had already delivered the base material for façade of the Burj Khalifa with a BA finish and this time SOM wanted a Deco Linen finish for The Address Sky View Towers in the Supra 316L grade. The pattern is inspired by natural linen fabric and is not visible from a distance. However, it is appealing to architects as it creates a diffuse reflection of its surroundings. As a result, it defines the structure and contrasts with the detailed reflectivity of glass. 


Challenge of consistency
A common challenge with stainless steel façades is to deliver panels with best possible consistency of color, shade, and finish. Inconsistent quality could create a patchwork or chequerboard appearance, which would be undesirable.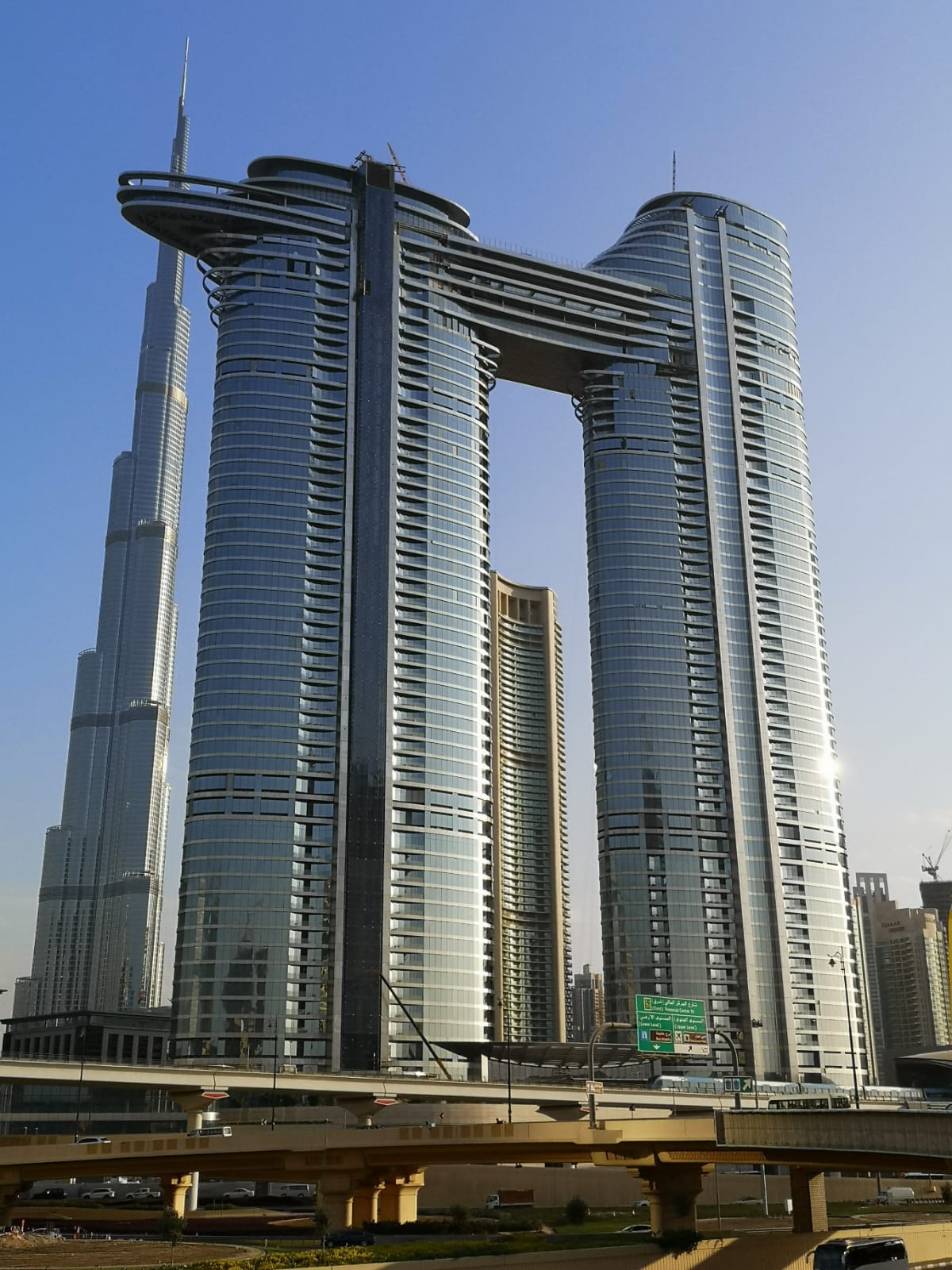 The Sky View project was Outokumpu's second largest-ever façade project (after the Ping An Finance Center in China). For most large projects, it delivers to a single fabricator, but in this instance, there were two – Folcra Beach and Al Ghurair – for speedy delivery and to optimise available workshop capacity, with each fabricator working on one tower. They ordered stainless steel sheets in batches, then cut and formed them to fit the towers.
 
The challenge was to ensure consistency of material between batches since any small difference in color would be noticeable. It's relatively straightforward to produce high consistency over sheets produced in large batches over a single run. In a steel mill, many parameters can affect the quality of finish. These may include the loads and temperatures used for rolling, the acid level in the pickling baths, the age and condition of a multitude of roller bearings in the production lines, or even the type of rolling oil used to lubricate the process. Even during a single production run, technicians need to watch the production carefully and adjust parameters if necessary. 
However, for this project, each of the fabricators ordered materials in three separate batches as they ascended the towers, with an additional order for the sky bridge.
Quality management
To achieve consistency across these batches, technicians at the rolling mill in Dillenburg, Germany kept detailed records and replicated the same production parameters for every batch. They also used their keen eyes, memory and experience of creating decorative architectural finishes for demanding customers.
The team at Dillenburg follows an exacting approach to quality management. The Deco Linen finish is produced by passing stainless steel sheets through rollers to emboss a pattern inspired by natural linen fabric, and they took care to replicate the same conditions for every batch. This helped to minimize differences between panels, for example, depth of embossing, or the color or tone of sheets. 
Outokumpu followed a similar approach for the Ping An Finance Center in Shenzhen, China. As its largest ever contract for an architectural façade, it supplied sheet with Deco Linen finish for the 600-meter high tower, which is currently the fourth tallest building in the world.
Long lasting and sustainable
Another important factor for developers is that Outokumpu's stainless steel has a carbon footprint up to three times smaller compared to other producers due to its use of recycled material and low-carbon energy sources.
In response to the World Green Building Council's Net Zero Carbon Buildings Commitment of 2018, Dubai is aiming to have the lowest carbon footprint in the world by 2050. Carbon footprint has become a driving force in architecture and a way for cities to compete for talent and business. 
Outokumpu can help architects to control the carbon dioxide embedded in their buildings.
One factor that makes stainless steel a sustainable choice is that it is one hundred percent recyclable. At the end of a structure's life, its façade can be remelted and given a new life, perhaps as another building in the future. 
However, recycling also helps to reduce the carbon footprint of stainless steel production. Outokumpu's stainless steel contains over 85 percent recycled content. This preserves the world's raw materials and it also saves energy. According to the Fraunhofer Institut, every tonne of austenitic stainless steel used as scrap saves 4.3 tonnes of CO2. Outokumpu has worked hard to improve its energy efficiency and buy energy from low-carbon sources. Together, all of this means that its stainless steel has the lowest carbon footprint on the market. 
Another benefit for developers is the environmental product declarations (EPD). These help customers calculate sustainability performance over their structure's lifecycle. LEED fact sheets are also available.
The Supra 316L grade provides the right level of corrosion resistance even for a coastal city like Dubai if the building is not located in direct proximity to the sea and if cleaned and maintained regularly. It is the most common grade for exterior architectural applications and had been used in many tall buildings around the world. 
Looking to the future
The growing importance of sustainable design has seen an increase in popularity of stainless steel façades, in addition to their aesthetic appeal. 
Stainless steel is completely recyclable, and its corrosion resistance – determined by the appropriate grade for a particular application – makes it a long-lasting, easy-care, and low-maintenance material. Plus, architects can rest assured that stainless steel will keep the building's appearance as they intended for decades to come.