Fast-track stainless steel for Australian winery
When Weilong Wines wanted to establish a brand new 21,000 liter capacity winery in Australia, its fabricator A&G Engineering chose Outokumpu's stainless steel as its building material thanks to our ability to deliver quickly.
Wine is the fastest-growing segment in China's booming alcohol market. To capitalize on this, China's third-largest winemaker Weilong Wines, purchased three vineyards in Red Cliffs, Northern Victoria. The aim was to have the first vintage ready for the Chinese New Year celebrations in January 2020. This required the construction of new winery facilities.
As the first Australian winery development of this magnitude for many years, it can handle more than 26,000 tonnes of grapes a year, which equates to 21 million liters of wine. To deliver this capacity, the winery needed to establish a new plant based on stainless steel tanks and vessels and start production in time to supply the annual celebrations.
Wine and stainless steel
For Weilong Wines, stainless steel was the fabrication material of choice owing to its exceptional corrosion-resistant properties, durability, and ease of cleaning.   
They appointed A&G Engineering, a family-owned engineering firm and one of Australia's foremost stainless steel fabricators to manufacture 180 stainless steel tanks – including 124 storage vessels ranging from 30,000 liters capacity to 1,200,000 liters, 42 fermentation vessels, and 14 general processing tanks, as well as rotary screens.
According to Randall Collins, A&G's business development manager, the sheer size and timeframe of the Weilong project was challenging. "We've been building winery equipment for over 50 years, and it's almost second nature to us, but there hasn't been a greenfield project of this size in our wine industry for a long time. We needed fast delivery of the stainless steel to give us the longest possible manufacturing and installation window."
Selecting stainless steel
A&G selected Outokumpu to supply and deliver Core 304/4301 stainless steel grade thanks to favorable price and availability to meet the project's tight production schedules. The range is highly formable and weldable, which were vital considerations for production.
The project built on A&G's long relationship with Outokumpu, which has supplied material to the fabricator for many years. According to Randall Collins: "A&G had been working with Outokumpu for many years and we've come to rely heavily on their sound knowledge and expertise of stainless steel applications and quality products."
"With a project of this magnitude, communication and transparency are vital. Lead time for the coil material was three to four months, and Outokumpu did a great job to deliver the material to ensure uninterrupted production", said Collins.   
The vessels were built at A&G's three workshops, except for the two large 1,200 kL vessels that were built on site at the winery using precision automated manufacturing (PAM) in 24-hour shifts. This required bulk delivery of stainless steel to A & G workshops to ensure that A&G's team could continue to build and transport vessels on time.
In total, Outokumpu supplied more than 700 tonnes of coil, ranging in thickness from 2mm to 6mm.
Thickness of material is important as tanks are typically built up of plates that are welded together to form a cylinder. Tank designers can reduce the amount of steel they need by using thinner plates at the top of the tank than the thicker ones needed to withstand the higher pressure at the bottom. When sizing a large storage tank, designers who want to estimate the quantity of material needed can use our storage tank calculation tool.
Logistics and quality
The A&G order for Weilong Wines was one of the largest single wine tank orders in Outokumpu's history.
For Con Logos, our General Manager for Australia and New Zealand, it meant a hands-on approach to the project. "The challenge for a big project like this is keeping on top of regular deliveries so that A&G's workshops are kept busy. It's also important that the material is the highest quality.
"I stayed in constant contact with the mill to make sure that there were no internal hurdles that could cause a delay. I also stayed in touch with A&G to keep them informed of the progress of the order and ask for their feedback on quality. It's really a two-way process.
"In terms of logistics, we were able to minimize the lead time by shipping the stock from our Terneuzen finishing lines in The Netherlands, where we hold large stocks of popular grades and products. We have fully automated lines there for slitting and cutting large coils to length. We were able to process A&G's order within two weeks, with shipping needing a further eight weeks.
"The lead time is on par with mills in Southeast Asia, which are much closer in terms of distance. Those mills don't necessarily have large stock holdings so they would need a six-week lead time for production followed by four weeks for shipping."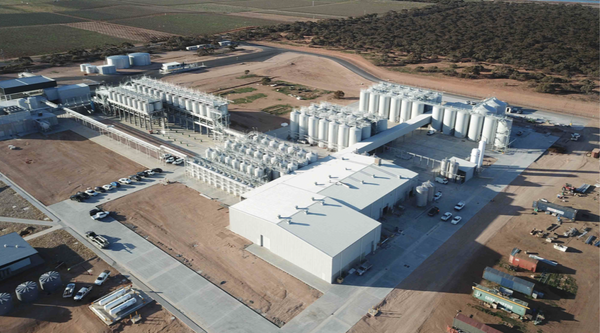 Environmental sustainability
Aside from competitive pricing, another important priority for A&G is sustainability.
Randall Collins said: "Sustainability is a very important aspect to any business and at A&G we pride ourselves in continually improving our environmental program. That's why we use stainless steel as it's long lasting and fully recyclable."
Outokumpu provides a competitive edge for customers who care about sustainability. The high recycled content minimizes the use of raw materials and helps to reduce our carbon footprint.
Energy efficiency measures in place at Outokumpu's steel mills means that even with additional shipping from Europe to Australia, Outokumpu's stainless steel has a lower environmental footprint than mills in Asia.
Collins concludes: "Stainless steel is just one of many factors for us to consider when designing and delivering a major project like this. For example, we need to think about which of our three workshops is best suited to the project, transport and logistics, as well as workplace health and safety.  Therefore, it's important that we know we can rely on our supply of raw materials."
Stainless steel wine tanks made of sustainable Outokumpu Core 304/4301