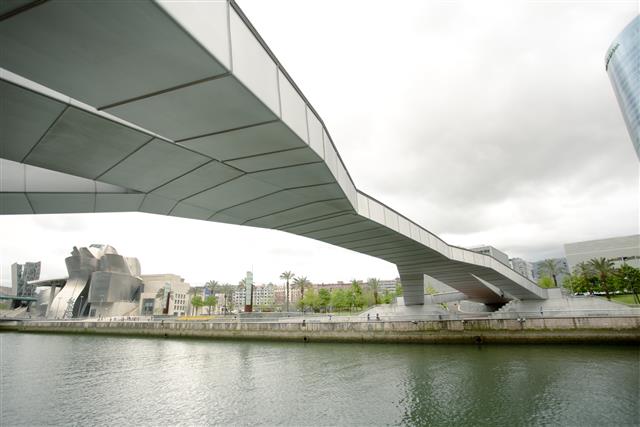 Duplex stainless steel is an attractive material for bridges and structures. Its high-strength means that architects can create lightweight and attractive structures. And because it resists corrosion from sea salt and de-icing salt, it keeps its finish with no need for repainting. Recognizing that, other architects delivered their own prestigious bridges. 
However, a new generation of engineers saw lean duplex grades as an opportunity to save costs. Lean duplex stainless steels contain relatively low levels of high alloying materials like nickel or molybdenum. These provide excellent corrosion resistance but are relatively costly, so by using less of them, lean duplex grades tend to offer good value for projects in moderately corrosive environments. 
The first bridge where lean duplex stainless steel was specified purely on the basis of cost was the Añorga railway bridge near San Sebastien in northern Spain. Owned by Spanish railway operator Eusko Trenbide Sarea, the bridge replaced a carbon steel structure that had required extensive maintenance. The structure is designed for minimal maintenance over 130 years and was formed by welding together plates of Forta LDX 2101. 
Completed in 2011, the Añorga bridge was the start of a new trend for specifying duplex stainless steel because it has the lowest Life Cycle Cost (LCC). This covers all the financial costs associated with building and operating a bridge during its lifetime. It includes design and engineering, the cost of material, fabrication and construction, as well as inspection, repair and maintenance. 
It also includes dismantling at the end of its life and disposal. Unlike many construction materials, stainless steel retains value at the end of its life as it can be sold as scrap and returned to the steel mill, possibly to become another bridge. 
Not only does this make financial sense but also environmental sense.
We are celebrating the 90 years of duplex stainless steel. Duplex stainless steel was originally developed by Outokumpu in Avesta, Sweden in 1930. As the original inventor of duplex we have both experience and expertise to take the material further.