The highest outdoor deck in the western hemisphere
Stainless steel provides architects with a crisp, clean and contemporary façade for prestigious buildings. One example is 30 Hudson Yards, a new 395 meter super-tall skyscraper in New York City. As well as being a distinctive new addition to the city's skyline, the building is set to become a major tourist attraction. It is home to the highest outdoor deck in the western hemisphere, called 'The Edge', a 24-meter cantilevered outdoor deck that offers panoramic views of the city, as well as a floor window where visitor can look at the ground 100 floors below. The building is also the centerpiece of the $25 billion Hudson Yards development, which is the largest real estate project in US history. 

With the eyes of the world looking on, architects at Kohn Pedersen and Fox (KPF) wanted the highest possible quality materials for its stainless steel and glass façade. 

Large architectural façades are the most visually demanding application for stainless steel as the human eye has evolved to spot patterns and inconsistencies. Subtle differences in the tone or shade between individual panels could create a chequerboard effect that would undermine the end result.
Therefore, façade consultant Heintges and its fabricator Pohl faced the challenge of delivering stainless steel panels with consistent color, shade and finish. Outokumpu and Pohl have worked together in various projects starting in 1991 with Cesar Pelli's Plaza Tower in Costa Mesa, California. Together Pohl and Outokumpu have developed a material approval process and a joint final quality control process to ensure the highest possible color consistency and homogeneity. 
Therefore, it was natural for Pohl to turn to Outokumpu for 110 tonnes of stainless steel in 2016-2017 for the project. 
Quality control for a consistent finish
KPF selected 2mm thick stainless steel sheet in the grade of Supra 316L with a Deco Linen finish. This finish is inspired by natural linen fabric and is not visible from a distance but creates a diffuse reflection of its surroundings, defining the structure of buildings and helping them fit with their surroundings.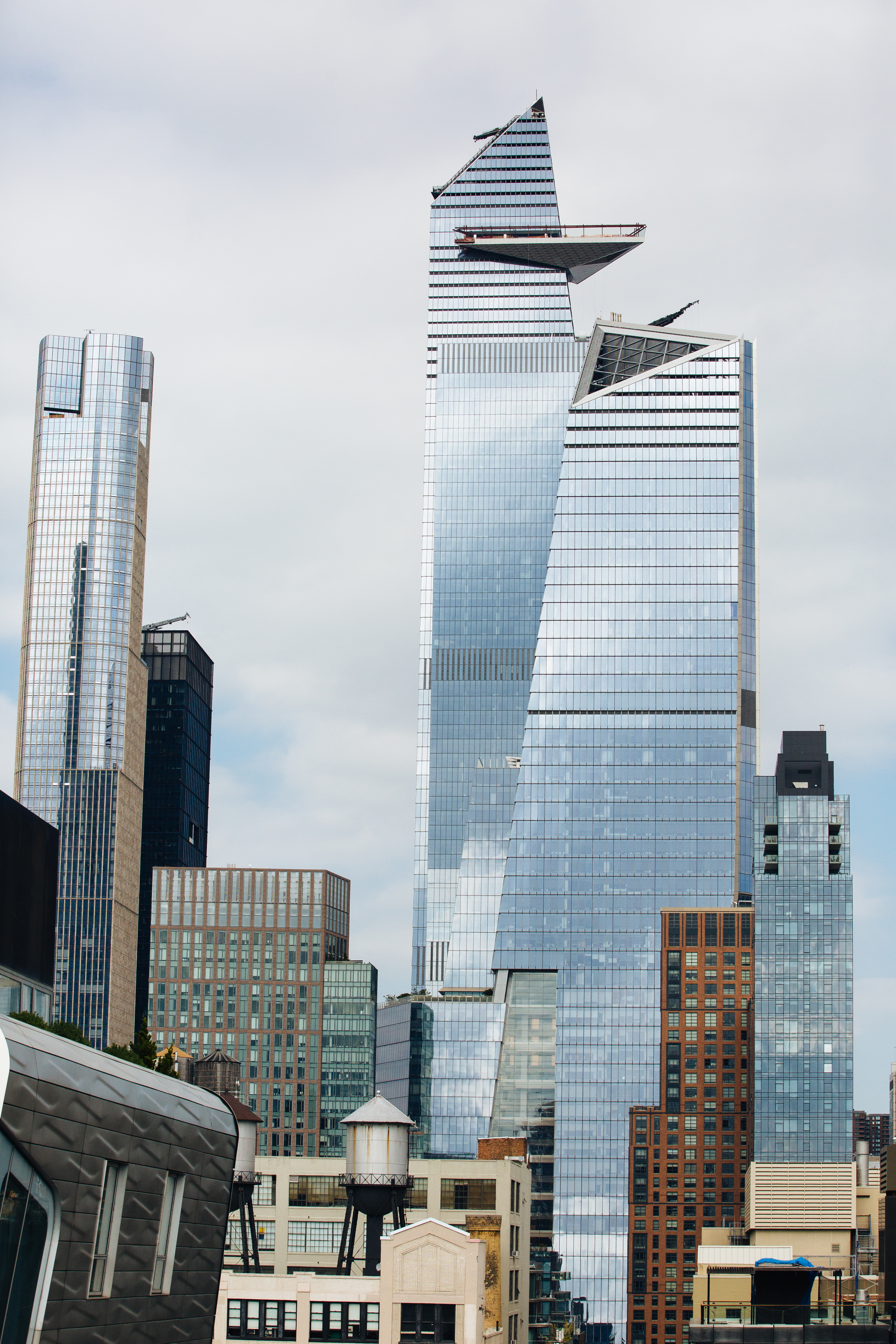 Consistency of the Deco Linen finish is particularly important for prestigious buildings like 30 Hudson Yards as it features large flat sections, where any visual inconsistency would catch the eye. 
The pattern is produced at Outokumpu's Dillenburg, rolling mill between Frankfurt and Cologne in Germany, by passing stainless steel sheet through rollers to emboss a pattern into the surface. Many production parameters can vary during this process and the end quality can be affected by the loads and temperatures used for rolling, as well as the condition of equipment and the chemical composition of pickling baths and lubricating oil.     
Outokumpu's usual product approval process includes the production of material samples before it carries out rolling and embossing of the main bulk of material. 
However, for a high-profile project like 30 Hudson Yards, Pohl will send its own quality managers to Dillenburg to work alongside Outokumpu's technicians. Quality control begins with the arrival of large coils of stainless steel sheet from Outokumpu's hot rolling mills. Before rolling and embossing for façade projects can start, the technicians evaluate the coils and select only the ones with the best surface quality.

Once rolled, Pohl's quality manager inspects one sheet from every coil to compare color consistency, embossing depth, and homogeneity. Only when they're satisfied, does the site release production and begin cutting the material into sheets. 

This approach is possible as Pohl's workshop is only a short drive of around 120 km from Dillenburg so Pohl's team can easily visit. 

Outokumpu also has stringent quality control in place for fabricators located further afield, whether supplying projects like the Ping An Finance Center in Shenzhen or the Sky View Towers in Dubai. For example, it uses the same highly experienced technicians, who take charge of material selection, decide on the production parameters of equipment in the rolling mill and evaluate rolling quality. It also takes a similar approach to providing samples of material for the customer's approval. 
Accent panels and exterior skin of The Edge
After taking delivery of the sheets, Pohl's technicians formed and bent them into long slender accent panels that run from ground level to the very top of 30 Hudson Yards. They also created larger triangular panels to form the exterior skin of The Edge observation deck. 

An important benefit of stainless steel is its long life in tough environments. As a dense city on an island surrounded by seawater and high air pollution from traffic, New York City is a harsh environment for its buildings. A further challenge is that the city authority uses de-icing salts to keep the streets free of ice and snow in the winter. 

All this combines to create an environment rich in chloride ions, which are corrosive to steel alloys. However, as a stainless steel, Supra 316L has high corrosion resistance and is therefore ideal to ensure a long life.

A real-life demonstration of the longevity of stainless steel is the Chrysler building, only 3.2 km from 30 Hudson Yards. Famous for its stainless steel art deco spire, which still looks absolutely pristine after 90 years lifetime and very low maintenance. To date, the spire has only been cleaned twice during necessary repair projects and the stainless steel itself remains in excellent condition.

This long life highlights the sustainable nature of stainless steel as an architectural material. It lasts a lifetime with minimal maintenance and is fully recyclable. 

Sustainability is becoming more important for architects and property developers as they react to the effects of man-made climate change. According to the United Nations Environment Program, buildings are responsible for almost half of the world's energy use. 

Therefore, architects are pushing towards more sustainable buildings through initiatives like LEED (Leadership in Energy and Environmental Design). 30 Hudson Yards has achieved LEED Gold certification, showing the effort made to reduce energy consumption and minimize the impact on the environment. 
Next step in the sustainability journey
Some architects are now taking the next step towards greater sustainability by calculating the carbon footprint of their structures. 
To help them, Outokumpu has created environmental product declarations (EPDs) and LEED fact sheets. The EPDs have been independently verified through the Institut Bauen und Umwelt (IBU), a German association that specializes in validating the environmental performance and sustainability of materials for the building and construction industry. Steel production is an energy-intensive industry – however, Outokumpu has worked hard to minimize its carbon dioxide emissions. Its carbon footprint is three times smaller than the industry average thanks to energy efficiency initiatives, use of recycled material as feedstock for production and purchasing low-carbon energy to power its mills. 
A new surface finish
A side benefit of 30 Hudson Yards for architects was that the project prompted Outokumpu to develop a new surface finish. 

Jörn Teipel, Outokumpu's lead technical manager for architecture, said: "Traditionally, we've always made linen finishes with a horizontal slub. This is a slightly thicker line that appears intermittently in natural fabrics and we've reproduced it in our Linen finishes. 

"However, when working on 30 Hudson Yards, the specialist façade consultant Heintges suggested introducing a linen finish with the slub running vertically as this would create an even closer match between the material and the long vertical accent panels running up the building's exterior. 

"While we were not able to introduce the new texture in time for 30 Hudson Yards in 2016, the vertical option is now available for architects to specify and is called Deco Vertical Linen M29, whereas the horizontal version is Deco Linen M25."
Long life to look forward to
When it opened in March 2020, 30 Hudson Yards became the third tallest building in New York City and an important addition to the city's skyline. KPF has won multiple awards for its work, including the 2019 Façade Engineering Award of Excellence from the Council for Tall Buildings and Urban Habitat (CTBUH).

However, with its stainless steel façade, it also has a bright future ahead. Not only will the corrosion-resistant cladding help to maintain the building's good looks over a long life, but it also highlights the way forward for sustainability in architecture.