In August 2016, the world heads to Brazil's Barra Olympic Park complex to witness two weeks of sport and a glut of gold medals. What if similar tournaments were held to test elite materials? It would be a tremendous opportunity for stainless to showcase its exceptional qualities.
Example of extreme endurance
An Olympic marathon is about longevity – and the ability to withstand a significant amount of physical and mental strain to cross the finish line. New York City's Chrysler Building likewise exemplifies extreme endurance. Completed in 1930, the Art Deco-style skyscraper is clad in stainless steel produced using the original Outokumpu formula.
Approximately 12,500 shimmering stainless steel panels, along with decorative elements inspired by the Chrysler automobile and the machine age, have proven to be a winning, long-term investment. Except for a few panels that have been replaced, the stainless steel roof is original and has been manually cleaned only twice. After a run of almost nine decades, the 77-storey tower remains one of the world's most stylish steel-supported brick buildings and and is ready for at least another 90 years.
Testing strength
Boxing, meanwhile – in which two people wearing protective gloves throw punches at each other – is a test of skill and will. It challenges the strength of the individual.
Similarly, Forta H-Series stainless grades can take the blows sustained by boxers. This austenitic material group is high-strength while being lightweight; when used in passenger cars and commercial vehicles, the advanced manganese-chromium alloy has a very high rate of energy absorption in the event of an impact.
Outokumpu has been delivering specialist austenitic steels to the automotive industry for structural applications since 2001.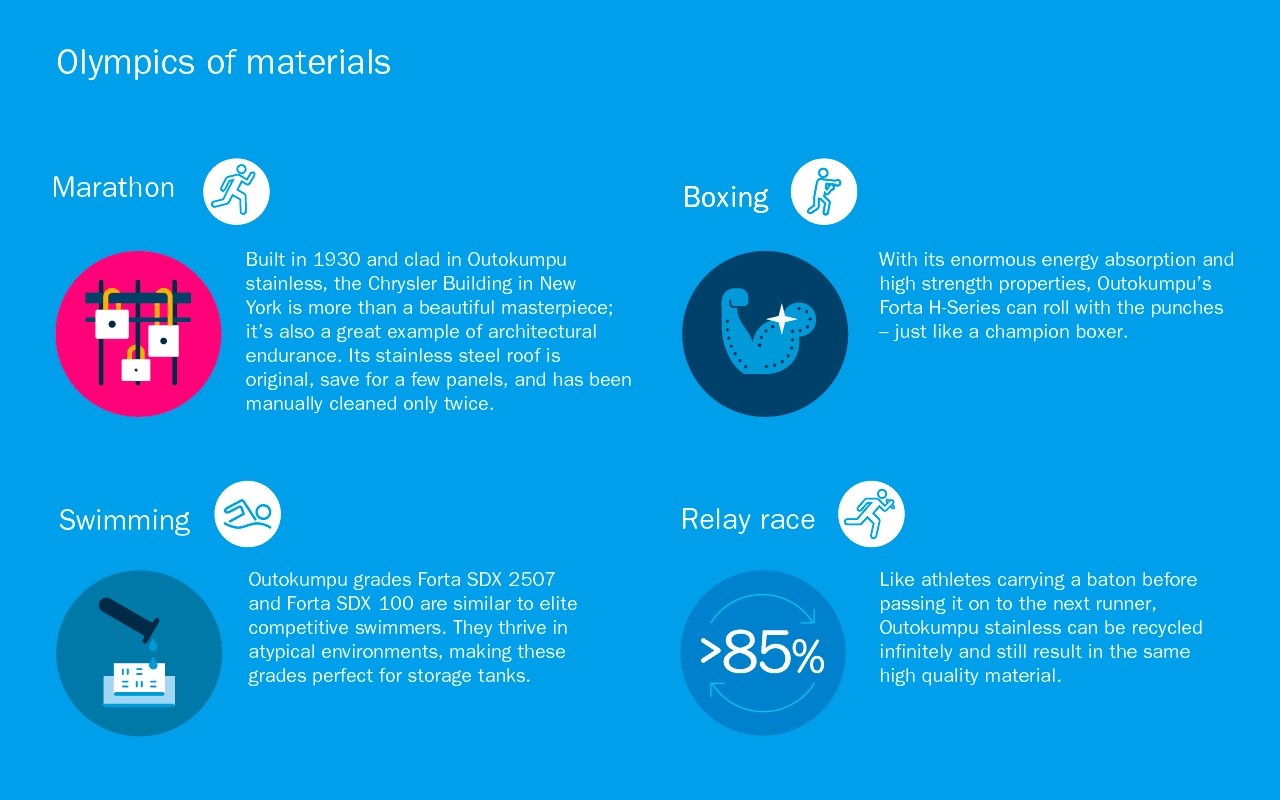 Mastering marine environments
Swimming has been part of the Olympic Games since Athens 1896. Testing their limits in an unusual environment, men and women compete in a total of 16 events, including relays and individual competitions in four strokes: freestyle, butterfly, breaststroke and backstroke.
Just like the best Olympic swimmers, Forta duplex stainless steels function under atypical conditions. They feature both strength and corrosion resistance, allowing them to master the elements while being exposed to seawater, for example. Grades Forta SDX 2507 and Forta SDX 100 are considered super duplex grades. Highly alloyed, they have a corrosion resistance comparable to high performance austenitics and are used in deep-sea pipelines, umbilical tubes and marine exhaust gas cleaning.
Recycling maximized
In a relay race, the athlete finishing one leg is required to pass on a baton to the next runner while both are running in a marked exchange zone. Good handoffs call for skill, collaboration, and careful coordination, allowing the cycle to go on and on. In the same way, stainless steel is the most recycled material in the world.
Outokumpu stainless steel contains the highest proportion of recycled content on the market, as the end of life recycling rate for Outokumpu stainless steel is as high as 82% (Outokumpu Sustainability report 2015). This compares very favorably to the recovery ratios of other materials: aluminum, 75% (The Aluminum Association); paper, 70.4% (Confederation of European Paper Industries); and plastics, 29.7% (PlasticsEurope).