Manufacturer of an Australian icon
Australia's public barbecue hotplates are a symbol of the country's outdoor lifestyle. Thousands are installed in parks and leisure facilities across the country and worldwide in a growing international market. DA Christie is the leading manufacturer of the iconic hotplates and uses Outokumpu stainless steel. 
Christie pioneered the first generation of public electric barbecues in the 1970s to avoid the risk of bush fires caused by open-flame grilling. Paul Conradie, Head of Sales, says:
"We introduced the first-ever electric barbecues nearly 50 years ago and have been leading the way with new features ever since."
"Today, our hotplates are found in country parks, beach and poolside locations and are extremely popular with people from all walks of life. Some state governments in Australia have more than a thousand of our hotplates installed." 
The hotplate barbecues are free to use, and no booking is needed. Instead, park visitors line up to wait their turn – especially on public holidays. Barbecues must withstand intensive use as some of the hotplates in popular locations operate for up to 10 hours per day throughout the summer.
Since they're designed for public use, safety and durability are the guiding principles behind the barbecues. The hotplates heat up at the touch of a button and switch off automatically after 20 minutes. While facility owners clean and maintain the barbecues, users also clean the hotplates before and after use. 
In 2018, Christie switched to a high chromium ferritic stainless steel grade, Core 4622, to benefit from volume discounts through bulk buying. They previously used multiple grades in different sizes.
"The technical performance of the Core 4622 is optimal for barbecue applications," says Juha Kela, Product Manager at Outokumpu.
"It offers similar corrosion resistance, weldability and superior heat transfer, machinability and deep-drawability than austenitic stainless steel 304L/4307."
Commercial factors
Price and availability were Christie's deciding factors when switching to Outokumpu's Core 4622. Paul Conradie, Christie's Head of Sales, says: "Lead times are critical to us. Previously, we used multiple grades of stainless steel in different thicknesses for cabinets and cooktops. We realized that by streamlining our production, we can buy in larger quantities and receive a volume discount. Buying in larger volumes also means that our distributor Midway Metals can stock more of the material we need, providing greater assurance over our supply chain."
Another commercial aspect is that no nickel is alloyed with Core 4622. Historically, the price of nickel has fluctuated widely, with an impact on the pricing of stainless steel. Stainless steel alloys without nickel additions such as Core 4622 have more stable pricing. This helps OEMs like Christie with more accurate financial forecasts.  
Hygienic and long-lasting
It was also essential to choose a stainless steel that would ensure food would cook quickly, evenly, and hygienically. Christie switched to Core 4622 stainless steel as it conducts heat well and has good corrosion resistance.
A good heat transfer coefficient is essential for hygiene as it avoids cool spots. In addition, the plates need to withstand charring, marinades, and acids during cooking and cleaning, hence the need for good corrosion resistance.
Surface finish is also important for both hygiene and appearance. DA Christie specified a number 4 brushed finish. According to Con Logos, Vice President Asia Pacific at Outokumpu:
"We developed an enhanced brushed finish at our service center in Melbourne specially for the local market. It's a very fine linished finish that you typically see on appliances in the food and beverage industry, such as ovens and countertops."
Straightforward manufacturing
Formability and weldability are two other characteristics that are important. Paul Conradie explains:
"We produce our hotplates using the technique of mono-pressing so that they are smooth and have no joints or welds where bugs could grow. To simplify our production, we buy stainless steel in the form of pre-cut square blanks 3 mm thick. This makes it easier to handle and requires fewer production steps in our workshop. It's also helpful that Core 4622 is straightforward to weld as we also use it to fabricate cabinets."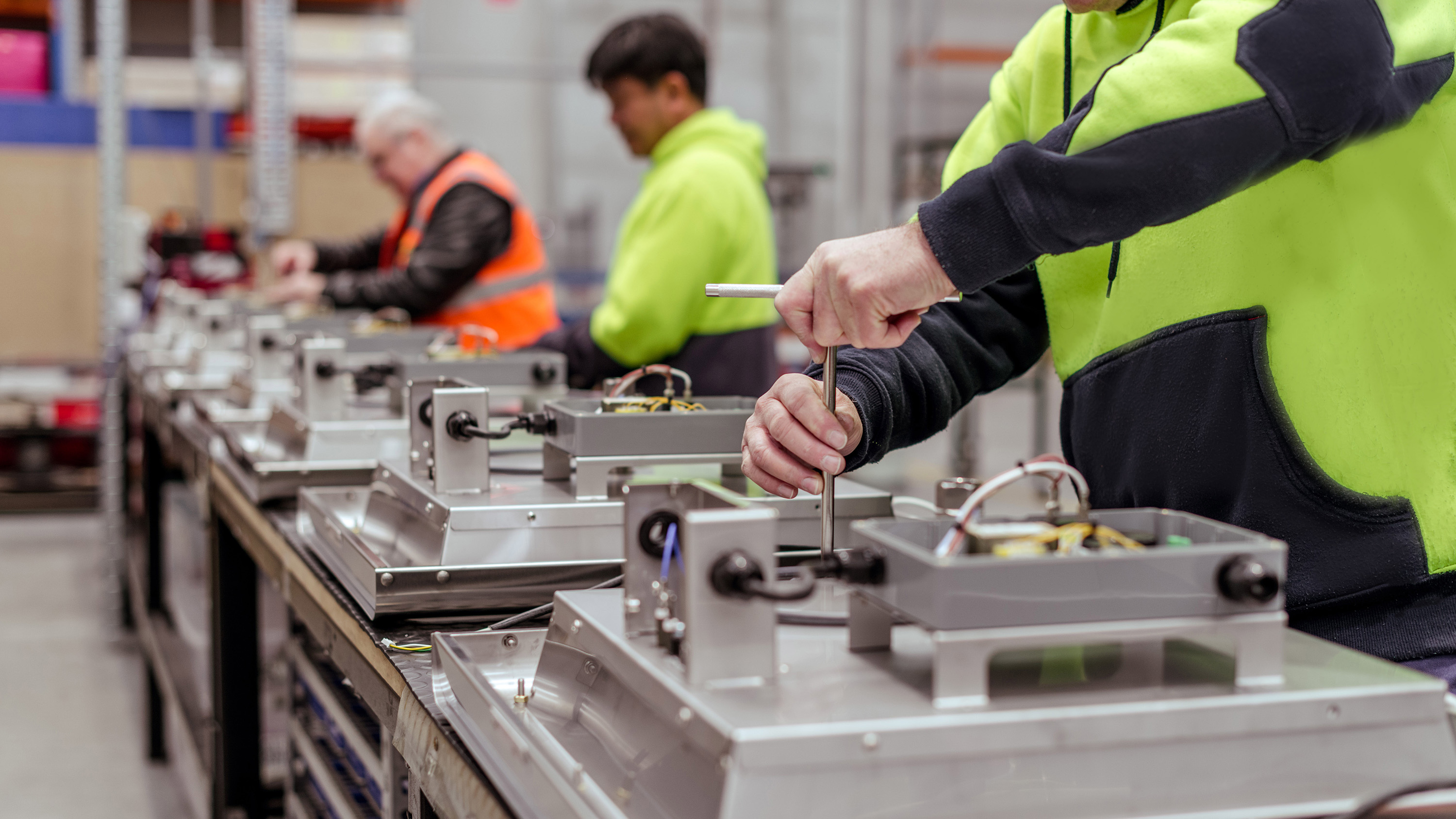 Sustainability as a pull factor
According to the United Nations Environment Program, the construction sector is responsible for nearly 40 percent of CO2 emissions. Therefore, local authorities and architects are under pressure to improve environmental sustainability. In Australia, environmental targets apply at the local, state, and federal levels. Paul explains: 
"We're seeing more customers demanding that we minimize our carbon footprint. This attracted us to Outokumpu as a supplier, since they have the highest level of recycled content of any stainless steel supplier. They help us to reduce our carbon footprint, which is a real selling point."
"We are growing our export business and have distributors across Asia Pacific and Europe. In these markets, our outdoor hotplates make a lot more sense than disposable barbecue trays. With climate change becoming a growing threat to habitats, the hotplates eliminate flames to create a safe and comfortable cooking experience."
Paul concludes: "What sets us apart is the design expertise we've put into our plates. We were the first to develop and integrate many new features and safety systems and using Outokumpu's stainless steel is just one example of our ongoing innovation."
"A typical hotplate has an outdoors working life of up to 10 years in varied and sometimes extreme climate conditions, which means members of the public will be cooking on our new stainless steel for many years to come."